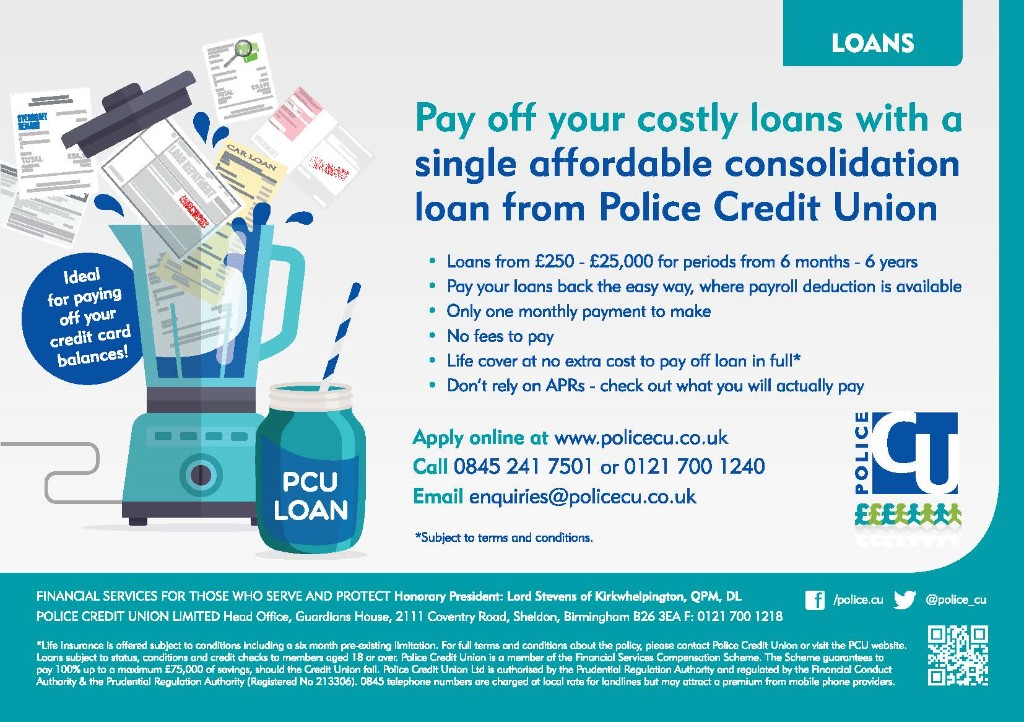 Information regarding the Police Credit Union can be found on the branch web site www.policecu.co.uk as well as the Police Credit Union website.
They are providing access to a Seasonal Loan where you can borrow between £500 and £2000 over 6 – 12 months at an APR of 9.9%. For more information ring 0121 700 1244 or visit the website at policecu.co.uk/loans
MESSAGE TO ALL MEMBERS AND PROSPECTIVE NEW MEMBERS.
Do you have other loans and credit cards at high APR's? Consider consolidation, you could save £££££s in interest as the interest on a PCU loan is recalculated following a reducing balance.
Are you planning a New Vehicle or Home/Garden Improvements or need a Holiday?
We have funds available now subject to credit check and affordability assessment.
We are genuinely here to help!
Police Credit Union is open to retired police officers and their family members who live at the same address.
Open an easy access savings account, saving a minimum of £10 per month from your Police Pension or Bank Account. (£25,000.00 of the total savings balance is covered by Life Insurance, at no charge to members, subject to conditions, up to age 65 years). By saving with PCU, you are helping PCU to lend to other members, with the ethos of 'Members helping Members'.
Credit Union Loans are available from £500 – £25,000 and are available subject to status, conditions and credit checks to persons 18 years and over and are also covered by life insurance, at no charge to members, up to the value of £25,000, subject to conditions, up to the age 70 years.
Based locally at E2 Prestwick Park, Prestwick, Newcastle, Jackie Stallard, Graham Ward, Beccy Green and Fiona Martin, are happy to talk through your needs at any time Monday to Friday between 9.00am and 4.00pm.
Telephone 0121 700 1244. Or request information via email at: newcastle@policecu.co.uk
You are able to join to borrow or simply join online, by visiting the website at: www.policecu.co.uk
Police Credit Union is authorised by the Prudential Regulatory Authority and regulated by both the Prudential Regulatory Authority and the Financial Conduct Authority. Number 213306 – and covered by the Financial Services Compensation Scheme.
POLICE CREDIT UNION LTD – Newcastle Branch
E2 – Grey Building
Prestwick Park
Newcastle upon Tyne
NE20 9SJ
Tel: 0121 700 1244/0845 241 7506
Fax: 01661 821031