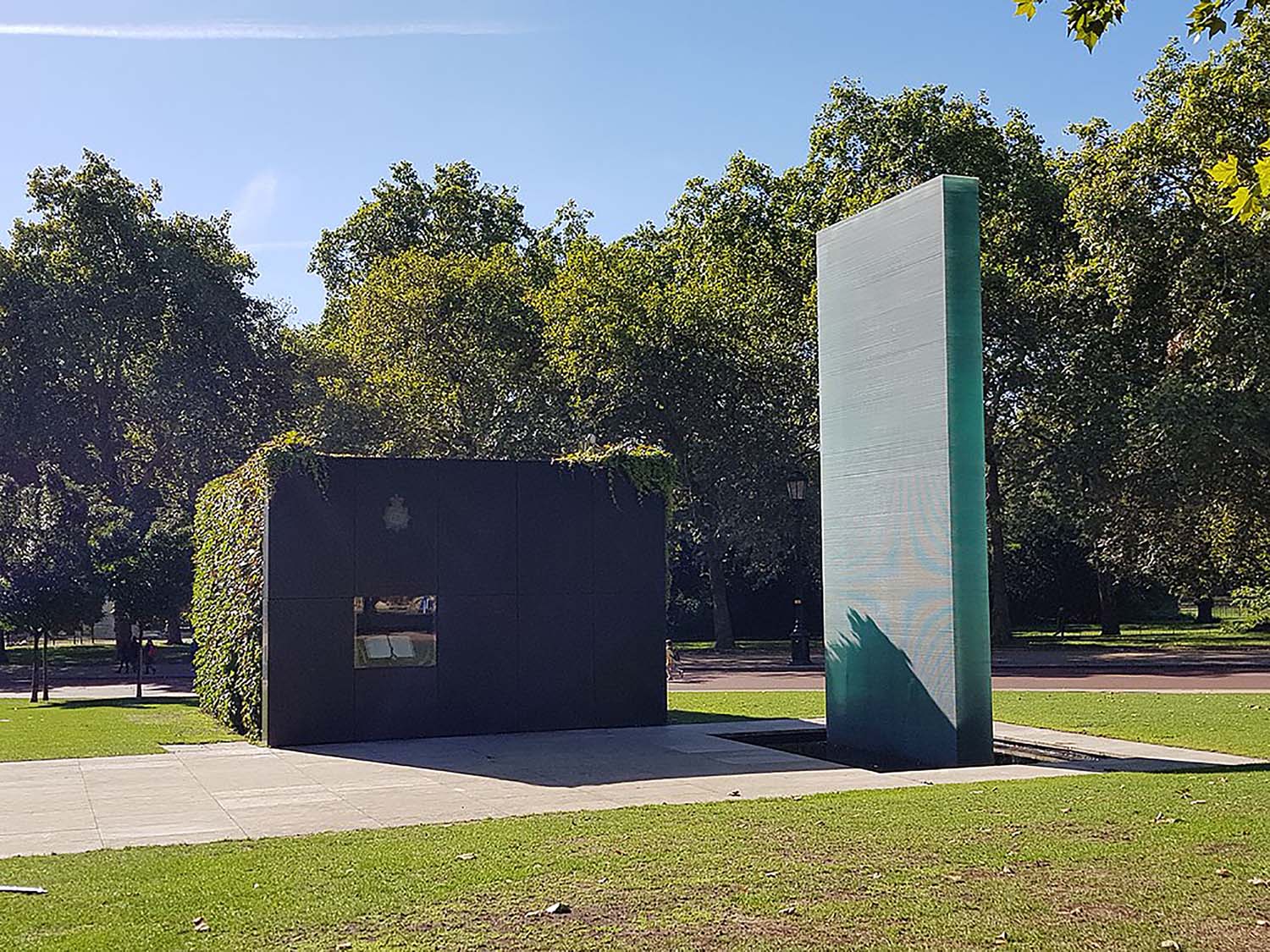 National Police Memorial, The Mall, London 2018.
Attribution: Irid Escent [CC BY-SA (https://creativecommons.org/licenses/by-sa/2.0)]

Obituaries
During the currency of the Covid-19 crisis, obituaries are not able to be published in the same detail as usual, as Pensions Department, who supply the information, are mainly home-working without access to records to supply additional background information and service histories. Please note, however, Northumbria NARPO has no independent access to service records and relies entirely on information provided to compile the obituaries.
Regulations relating to the conduct of funerals, imposed by HMG, dictate that services are still not open to the public. Some locations provide a streaming service for those unable to access the chapel.
All obituaries published below will appear in the Winter 2021 Northumbria Bobby
Alan Anderson
Alan died on the 6th May, 2021 aged 62 years. He leaves a widow, Jean. Alan, whose funeral took place on Wednesday 19th May, 2021, retired as a constable in 2006.
Richard Jackson
Richard died on the 12th May, 2021 aged 53 years. He leaves a widow, Suzanne. Richard retired as a superintendent in 2017. His funeral was held at South Shields Crematorium.
Helen Clark
Helen died on the 13th May, 2021 aged 56 years. She leaves a widower, Francis. Helen's funeral details are not to hand. Helen, who retired as a constable worked mainly in the West End before moving to a plainclothes role and retiring in 2013.
Ambrose Alan Brown
Alan died on the 23rd May, 2021 aged 92 years. He leaves a widow, Mollie. Alan retired as an inspector in 1984 following 35 years service. Initially based at the West End, Alan also served at Wallsend, Whitley Bay, and in various control rooms. He spent many years running the police rugby team. The funeral service will be held at St Hugh's Church, Regent Farm, Gosforth on Friday, 11th June 2021. Covid restrictions to numbers attending will apply and all places available have been allocated.
Colin Bain
Colin died on the 5th May 2021 aged 84 years. Colin, who lived in the Sunderland area, retired as a constable in 1987. Nothing further is known of his service history. Funeral arrangements are not to hand.
Wilfred Mackel
Wilf died on the 23rd May, 2021 aged 82 years. He retired as a uniformed inspector in 1994 after service in the Sunderland area. Funeral arrangements are unknown.
John Henderson
John died on the 23rd May 2021 aged 83 years. He leaves a widow, Jennifer. John, who retired as a sergeant in 1988, spent most of his service in the Newcastle area. Subject to Covid regulations, John's funeral will be held at 2 pm on Monday, 7th June, 2021 at Trinity Church, Gosforth.
Maureen Harper
Maureen died on the 19th May, 2021 aged 87 years. She was the widow of George Harper, lately Branch President of Northumbria NARPO. Maureen supported George in attending NARPO conference and social event for many years. Her funeral will take place, within Covid regulations, at 1.45 pm on Wednesday, 9th June, 2021 at St Francis' Church, Cleveland Gardens, High Heaton.